On March 3, 2020,According to the National Bank for Agriculture and Rural Development (NABARD), an Apex Development Financial Institution in India, it has granted Rs 1.46 lakh crore in the rural banking system during the current fiscal-FY (2019-20) with the aim to help them get their resources effectively for handling the credit needs of rural people, including farmers.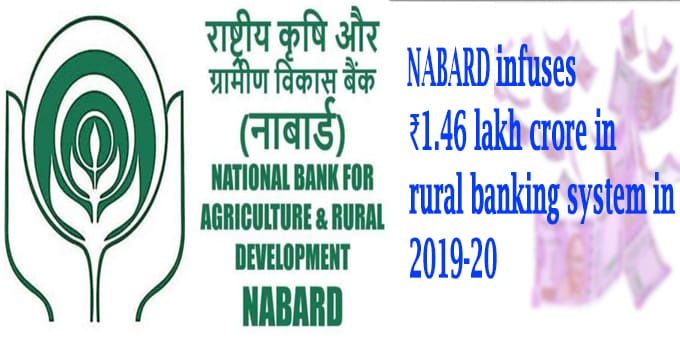 Key Points:
i.Break-up: Of the total amount, it had infused Rs 87,069 crore to rural cooperative banks and regional rural banks (RRB) in short-term refinance. Along with this, long-term refinance of Rs 59,502 crore has also been offered to these banks and other financial institutions on February 28, 2020.
ii.Long term & short-term credit: Hence it provided a total outlay of Rs 66,397 crore in short-term credit and Rs 6,704 crore long-term credit to rural cooperative banks. RRBs have obtained Rs 14,141 crore in short-term credit and Rs 8,417 crore in long-term credit.
iii.While the other banks, including small finance banks (SFBs), have availed long-term refinance of Rs 37,895 crore.
iv.Credit to NBFCs& MFIs: NABARD also offered institutional credit to rural sectors through non-banking financial institutions (NBFCs) and MFIs(Micro Finance Institutions), which have obtained Rs 4,638 crore till now during FY 20.
v.Loan given for: The rural banking getting the short-term refinance to allow farmers meet their operational costs.While , the Long-term refinanceavailed by them is aimed at supporting sectors like dairy, poultry, fishery, farm mechanisation, irrigation, and non-farm sectors,etc.
About National Bank For Agriculture And Rural Development (NABARD): Headquarters– Mumbai, Maharashtra
Chairman– Dr. Harsh Kumar Bhanwala
AffairsCloud Ebook - Support Us to Grow