On March 8, 2020, Hockey India, the governing body with mandate to conduct all activities for both men and women's hockey, has organized its 3rd Annual Awards 2019 at Hotel the Lalit in New Delhi to honour the best hockey players and former legends of the game from India. Minister of Youth Affairs and Sports Kiren Rijiju was the chief guest at the occasion.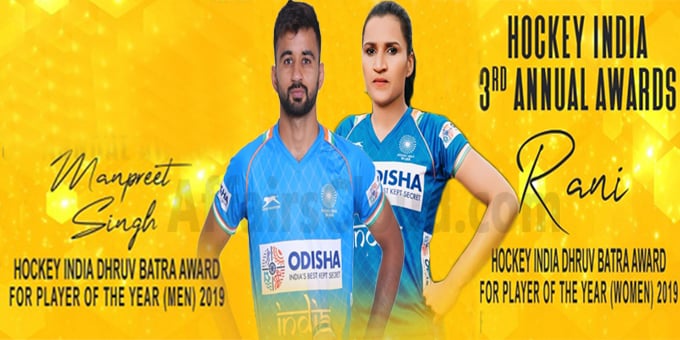 The captain of India men's national field hockey team, Manpreet Singh Pawar  (27) & Captain of Indian Women Hockey Team, Rani Rampal (25) have won the Hockey India Dhruv Batra Player of the Year Award 2019 for Men and Women respectively. Apart from the trophy, they also collected a prize money of Rs 25 lakh each.
Highlights:
i.Harbinder Singh, who was a member of the Tokyo Olympics 1964 gold medal winning team, was honored with Major Dhyan Chand Lifetime Achievement Award 2019,which carries a prize money of Rs 30 lakh and a trophy. He was also a member of the bronze medal winning team at the 1968 Mexico and 1972 Munich Olympics.
ii.India's star striker Lalremsiami & were honoured with Upcoming Player of the Year 2019 (Women – Under 21) & (Men – Under 21).
iii.Manpreet became the 1st Indian to become the International Hockey Federation's (FIH) best player of the year in 2019. Rani also became the first hockey player to win the World Games Athlete of the Year 2020 in January.
Here's the full List of winners at Hockey India 3rd Annual Awards 2019:
[su_table]
| | | |
| --- | --- | --- |
| S.No. |          Award/Category |  Winners |
| 1 | Hockey India Major Dhyan Chand Lifetime Achievement Award 2019 | Mr. Harbinder Singh |
| 2 | Hockey India Dhruv Batra Player of the Year 2019 (Male) | Mr. Manpreet Singh |
| 3 | Hockey India Dhruv Batra Player of the Year 2019 (Female) | Ms. Rani Rampal |
| 4 | Hockey India Jugraj Singh Award for Upcoming Player of the Year 2019 (Men – Under 21) | Mr. Vivek Sagar Prasad |
| 5 | Hockey India Asunta Lakra Award for Upcoming Player of the Year 2019 (Women – Under 21) | Ms. Lalremsiami |
| 6 | Hockey India Dhanraj Pillay Award for Forward of the Year 2019 | Mr. Mandeep Singh |
| 7 | Hockey India Ajit Pal Singh Award for Midfielder of the Year 2019 | Ms. Neha Goyal |
| 8 | Hockey India Pargat Singh Award for Defender of the Year 2019 | Mr. Harmanpreet Singh |
| 9 | Hockey India Baljit Singh Award for Goalkeeper of the Year 2019 | Mr. Krishan B. Pathak |
| 10 | Hockey India Jaman Lal Sharma Award for Invaluable Contribution 2019 | Sports Authority of India |
| 11 | Hockey India President's Award for Outstanding Achievement 2019 | Department of Sports & Youth Services, Government of Odisha |
[/su_table]
List of Awards for felicitating the players for Individual Achievements during 2019:
[su_table]
| | | |
| --- | --- | --- |
| S.No. | Award/Category | Winners |
| 1 | The World Games Athlete of the Year 2019 | Ms. Rani Rampal |
| 2 | FIH Men's Player of the Year 2019 | Mr. Manpreet Singh |
| 3 | FIH Men's Rising Star of the Year | Mr. Vivek Sagar Prasad |
| 4 | FIH Women's Rising Star of the Year | Ms. Lalremsiami |
| 5 | 200 International Caps | Ms. Deep Grace Ekka, Mr. Kothajit Singh Khadangbam, Ms. Savita |
| 6 | 100 International Caps | Mr. Harmanpreet Singh, Mr. Lalit Kumar Upadhyay, Ms. Nikki Pradhan |
[/su_table]
About Hockey India:
Headquarters– New Delhi
President– Mohd Mushtaque Ahmad
AffairsCloud Ebook - Support Us to Grow