On December 12, 2019 the Rajya Sabha(RS) passed the International Financial Services Centres (IFSCs) Authority Bill, 2019. The bill was passed to set up a unified authority to regulate all financial services in IFSCs in India. Prior to RS, the Lok Sabha(LS) passed the bill on December 11, 2019 and will become a law once the president Shri Ram Nath Kovind gives his assent.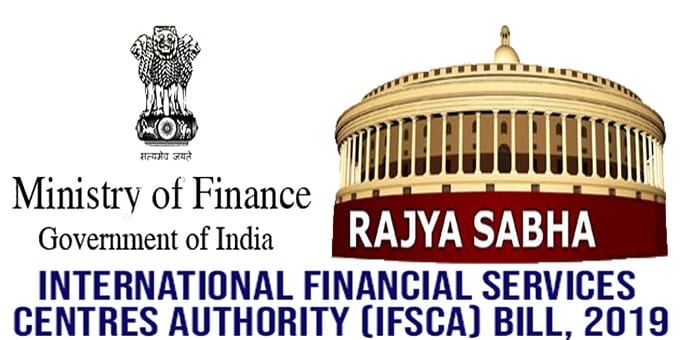 IFSC: Financial centres that cater to customers outside their own jurisdiction are referred to as International Financial Centers (IFCs) or offshore Financial Centers (OFCs). These centres deal with finance flows, financial products and services across borders. London, New York and Singapore can be counted as global financial centres.
Key Points: 
i.India's 1st IFSC:  The first IFSC in India has been set up at GIFT (Gujarat International Finance Tec-City) City in Gandhinagar city of Gujarat. IFSCs can be set up in SEZ (Special economic zone) or as an SEZ after approval from the govt.
ii.Authorised members: As per the bill, the authority will comprise of a chairperson, and one member each nominated by the Reserve Bank of India (RBI), the Securities Exchange Board of India (SEBI), the Insurance Regulatory and Development Authority of India (IRDAI) and the Pension Fund Regulatory and Development Authority(PFRDA). The banking, capital markets and insurance sectors in IFSC are currently being regulated by these multiple regulators.
2 more members from the central government and full-time or part-time members will be selected.
The authority, apart from regulating all financial services and products, can also recommend any other financial products to the central government.
iii.Benefits of IFSC to India: The IFSCs would provide easy access to global financial markets and also enable the development of financial markets in India.
IFSC would set up world class unified regulator for international financial services and would combine the powers and functions of RBI, SEBI, IRDAI and PFRDA.
About Rajya Sabha(RS):
Fact1- The Rajya Sabha or Council of States is the upper house of the bicameral Parliament of India.
Fact2- It currently has a maximum membership of 245. 233 members are elected by the legislatures of the states and union territories(UT). The President can appoint 12 members for their contributions to art, literature, science, and social services.
Chairperson- Venkaiah Naidu (Vice President of India).
Deputy Chairman- Harivansh Narayan Singh.
AffairsCloud Ebook - Support Us to Grow