Current Affairs PDF – Aug 2019 PDF File Sent to Subscribers
As we know, Current Affairs is playing a key role in all competitive exams. We are giving all our best effort to provide complete current affairs in all topics, which will help our aspirants to clear General Awareness section all competitive exams like – Banking, SSC, Railways, Insurance, UPSC, CLAT, State Level Exams and other National level exams.
Our astonishing team is working lot to present the best Current Affairs PDF so we have started this subscription to elevate ourself to lead.
AffairsCloud was trusted by 31 Million Aspirants from 2014 to 2018 & Thanks for your great trust, keep your support.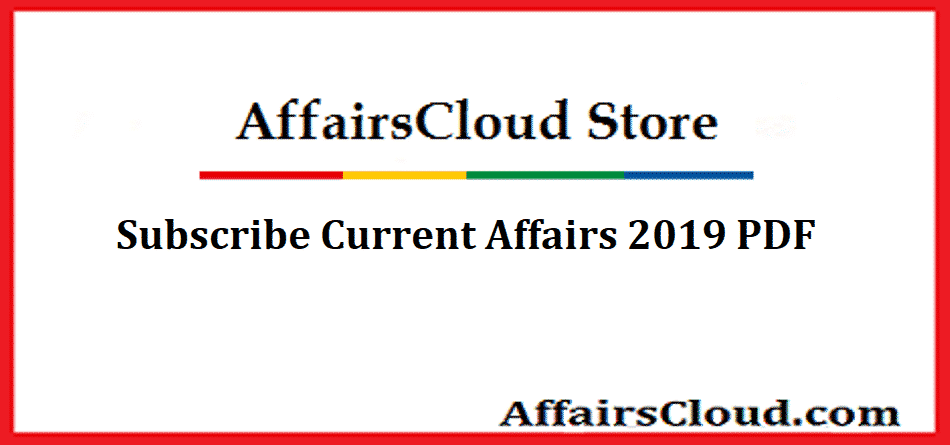 Plan Features
Study PDF, Q&A PDF, Pocket PDF, Hindi PDF & Section-Wise(Topic) PDF
25 PDF Per Month
Sample Files in FAQ's & Kindly Read the FAQ's Before Buy
100% Money Back Guarantee
100% Genuine Testimonials
Customer Support (Email Only)
Printout & Highlight Support
One Time Payment
Support Us to Grow
 Subscriber Support – Queries & Feedback FOrm
2019 CA Plan:
Subscribe(Buy) Current Affairs 2019 PDF (Jan-Dec) in English & Hindi – Rs 150

Important Note: This annual subscription will be applicable for the year 2019. If you purchase during mid of the year or at the end of the year, the subscription will not be extended to next year. We ll provide PDF from Jan to Dec 2019 materials. Onetime payment for the year 2019, no need to buy every month.
2018 CA Plan:
Buy Current Affairs 2018 PDF (Jan-Dec) – Rs 80
**************************